Upcoming Event
Words and Classes. Branches and Links.
Marco Passarotti of Università Cattolica del Sacro Cuore will presents the LiLa Knowledge Base, a collection of multifarious linguistic resources for Latin described with the same vocabulary of knowledge description.
High-quality affordable bachelor's and master's programs taught in English, at one of the oldest and most highly regarded universities in Europe and in one of the most student-friendly cities.
---
New release: PDT-C 1.0
Almost 4M words/tokens manually annotated at the morphological level.
A new version of Prague Dependency Treebank with extended morphological annotation is now available at LINDAT/CLARIAH-CZ.
Our teaching is going remote
Here we provide comprehensive information on remote mode of our courses running in the summer term 2020/21.
---
CzeSL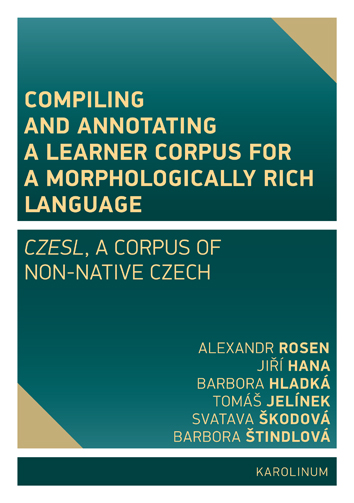 The book Compiling and annotating a learner corpus for a morphologically rich language is out now!
A new volume by Jirka Hana, Barbora Hladká and their colleagues from the Faculty of Arts presents CzeSL, a corpus of non-native Czech, against the background of theoretical and practical issues in the current learner corpus research.
New visiting professor appointed
prof. PhDr. Patrice Pognan,
Dr. ès lettres
We are pleased to announce that our long-time colleague Patrice Pognan, emerited professor of INALCO, Paris, has been appointed a visiting professor of Charles University.